Symbiosis Creative offers web and interactive multimedia solutions with a strong focus on usability and effective communication.

Symbiosis Creative also provides instructional design advice and assistance with the preparation of multimedia presentations for conferences, professional training and education seminars.

For larger projects, Symbiosis Creative can provide project management and consultative services, and will work collaboratively with other business from programmers to print designers, to provide a complete design solution. Symbiosis Creative now also offers a Domain Name Registration Service and can assist in setting up web hosting at competitive rates.
Melbourne based, principal designer Denise Jury at Symbiosis Creative works with the flexiblity to provide a personalised service to create functional and robust, yet creative design outcomes.

NEWS: March 2007 - 13th AIMIA AWARDS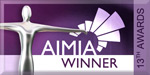 Clinica Media - Best Emerging Exporter

A sell out audience of 700 AIMIA members, industry leaders, media celebrities, federal and state members enjoyed the magnificent ambience of Sydney's State Theatre and applauded the 13th Annual AIMIA award winners. Entries were judged by 120 international and local industry experts.
Melbourne media and medical firm "Clinica Media" excelled in winning the "Best Emerging Exporter" category. Denise Jury, Creative Director accepted the award on behalf of the Clinica Media team.
Read the full press release or view the full list of Winners in the March 8-14 edition of BRW Magazine.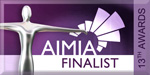 The Lowbackpain CD-Rom developed by Clinica Media [Denise Jury - Symbiosis Creative: Creative & Technical Developer] was a FINALIST in:
Best Government, Science or Health category.